Cross-country
The holiday region of GOMS is considered one of the top cross-country ski areas
in Switzerland. The offering in the various sub-areas covers all degrees of difficulty.
Both traditional cross-country skiers and skating enthusiasts will find exactly what
they are looking for here.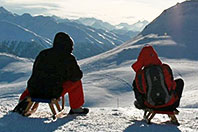 Sledding
There's nothing quite like letting that sled run and feeling the powdery snow swirling
up in your face – and in the OBERWALD holiday region sledding enthusiasts have
eight very different sled runs to choose from. The choice goes from family sledding
in Rhônequelle to sledding on the Grimselpass.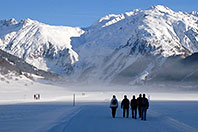 Hiking
What's the best way of enjoying the wonderful views of snow-covered peaks and the
clear winter air? Taking any one of the well prepared winter hiking trails in the GOMS
holiday region. Simply follow the pink or yellow signposts with the snowman logo to
reach your destination.
And there are plenty of cosy restaurants to rest up along the way.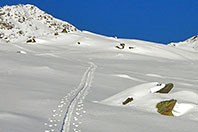 Ski tours
Welcome to the ski-tour paradise for lovers of nature and skiing. Besides a multitude of
routes ranging from easy pre-Alps mountains to demanding high-altitude ski tours the offer
also includes appealing combinations of outdoor and indoor pleasures, all of which benefit from the short access routes, ski tours combined with leisure mountain and gourmet treats.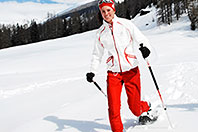 Snow shoe walking
A winter dream in the heart of the natural world. You can set out from any Goms village
to enjoy the magical world of snow shoe walking and winter hiking. There is a multitude
well-marked snow shoe trails with a total length of 36 km through the beautiful Goms
woodlands. Enjoy the peace of unspoilt nature, either by yourself or on a guided tour.