Oberwald, your gate to the GOMS valley
Welcome to Oberwald, the typical village of the Wallis with its picturesque houses and alleys.
Nestled in a unique mountain flora and surroundet by white peaks, Oberwald provides the complete
range of facilities to help visitors enjoy carefree holidays.
It is situated at the west end of the Furta tunnel, 1368 meter above sea level.
Direction to the GOMS
Coming from North: drive over Grimsel pass. Coming from East: drive over Furka pass.
Coming from South: drive over Nufenen pass. Coming from West: drive via Brig in the direction of Furka-Grimsel
or take car train from Realp through the Furka tunnel  (all passes are closed in winter).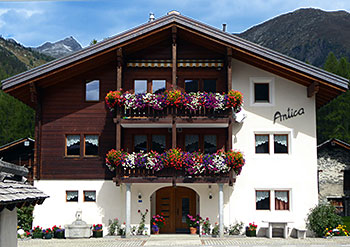 The apartment buildings «ANTICA&raquo are located in the
center of the village directly at the edge of the famous
cross-country trail. We can offer you three comfortable
and modern apartments in the house «ANTICA&raquo.
All apartments in the house «ANTICA&raquo are furnished in
a modern style and offer accommodation for 2 guests.

Grocery stores and restaurant are available within walking
distance (500 meters).
OBERWALD in summer
350 km hiking trails, Forest trails and trails along the river, 300 km mountain bike trails, 9 hole golf cource Source du Rhone,
DFB steam train - Furkapass, Rhone glacier tours, Game spotting, River Rafting, Rhone glacier grotto
OBERWALD in winter
 120 km cross-country trail, Fantastic forest trails, 5 km illuminated nigth trail, 50 km walking trail, several snowshoe trails,
Swiss Ski School, siedge trail Grimselpass, 130 km ski slopes in the Aletsch Area