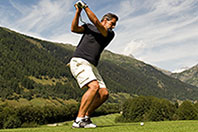 Golf
On what is surely Switzerland's most beautiful and longest 9-hole course you can find
out if your swing is really as good as you think. The «Source du Rhône» golf course in Obergesteln makes an immediate impression with its manicured fairways and greens,
its natural beauty and its fantastic views.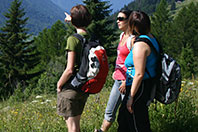 Hiking
With more than 350 km of signposted and well maintained trails and paths the Goms
holiday region is a genuine hiking paradise in Switzerland. The dense and far-reaching
network of hiking trails is ideally accessible thanks to the many cable cars and different
modes of public transport, with something to suit every taste.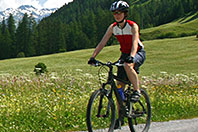 Biken
Eleven specialised bikehotels, 250 kilometres of signposted bike routes or bons vivants
provide access to the most beautiful parts of the holiday region of Goms in Switzerland:
from leisurely to sporty and from short excursions to extreme tours.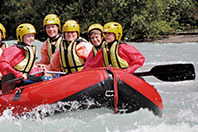 Rafting
Conditions for rafting and canyoning on the Rhône rivers are nothing if not exhilirating,
especially during the snowmelt. But even at the height of the summer a rafting adventure
on the cool waters is heaps of fun for the young and the young-at-heart.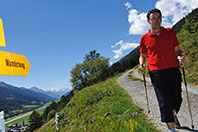 Nordic Walking
The holiday region Goms is ideal for Nordic Walking. It offers a wide range of hiking trails
for beginners and proficient walkers keen to take up this sport that's so healthy for the
body yet easy on the joints, and do so either on their own or in a group, with or without
professional coaching.